Filed Under Bollywood, bollywood actresses, Indian models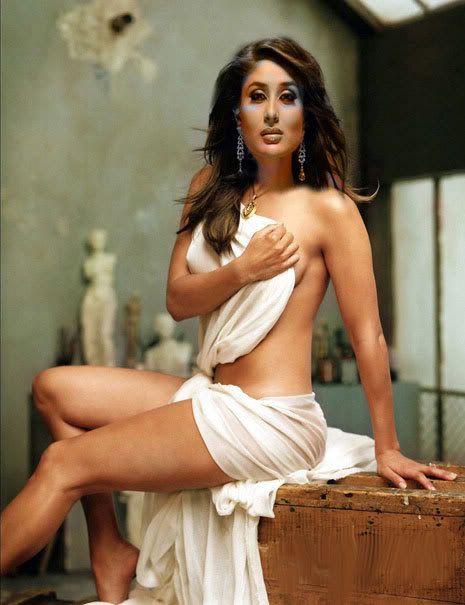 Hot Kareena kapoor is Bollywood's sexy babe on demand ever since her relationship with Saif was made public.Kareena kapoor has reduced a few kilos and looks more stunning with a special lovely glow on her face these days.

whether it be acting to ads or gracing the front covers of magazines, Kareena kapoor a.k.a. Bebo does them all, with grace and elegance.She is ofcourse the bulls-eye for the bollywood hungry journalists in the recent days, making a lot of buzz on her personal as well as her professional front.
Sexy Kareena kapoor graced the covers of Cine Blitz and the headline screamed 'Kareena-On Everything But Shahid & Saif'.this copy of cini blitz was a hot seller in the markets. Then 'Filmfare' had a very sexy backless Kareena on the cover. Kareena had always been happy with skin shows – as long as it is done tastefully. This picture ofcourse attracted many as this added to the spiciness of all the gossips about her new love affair with Saif. This Filmfare edition too sold out to the last copy!
What makes hot and sexy Sexy Kareena kapoor mysterious is the interesting love life with Saif and an even more rocketing career that she is going through right now. Everything makes Kareena kapoor the ideal woman of the bollywood world. With some big releases like 'Tashan' in the pipeline and the Saif-Kareena news showing no signs of mellowing, we can look forward to much more of Bebo!
Here are some pics of Indian model and bollywood actress Kareena kapoor:
People visiting this page also viewed these related videos
Liked the reads? Do subscribe via reader or via Email
One Response to "Kareena kapoor – Bollywood's sexy babe on demand