Filed Under Indian models, Kollywood, South Indian Actresses, Tollywood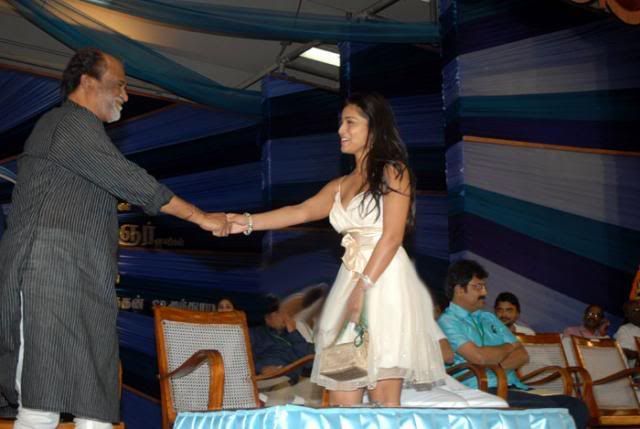 Sexy Shriya Saran was in trouble for her costumes during Tamil movie Sivaji's 200th day celebrations at chennai.The function was held at the Madras University.chief Minister M. Karunanidhi was the chief guest for the occassion.Sivaji become the first Tamil film ever to break into the UK Top 10, beating bigger Hollywood films like Fantastic 4 and Oceans 13.

Shriya saran looked dazzling with very minimal dress and grabbed everyone's attention. Shriya wore a mini skirt and low cut tops.But her costumes were not received well by everyone. Hindu Makkal Katchi's Ramamurthy filed a complaint against Shriya Saran at a police station located in Anna Square,chennai.
Hot,young and sexy bollywood actresses attending public functions in glamorous outfits, is not a new phenomenon.The film world portrays the actresses as glam queens and the fans throng to see and enjoying such portrayals.
Shriya saran was quick to write a letter of apology to chief Minister M. Karunanidhi.It is being said that shriya pleaded innocence and did not intend hurting anyone's feelings.Shriya added that she attended the function after a film shoot and hence she could not dress otherwise.
Shriya would have done better if she merely aplogised than finding a reason.
Sexy Shriya saran's costume that landed her in trouble:
Read Mallika sherawat's sexy attire in dasavatharam audio function that got the so called moral brigade to politicize a promotion seeking private film function.
People visiting this page also viewed these related videos
Liked the reads? Do subscribe via reader or via Email
2 Responses to "Shriya saran's sexy costume that landed her in trouble